The Curious Creations of Christine McConnell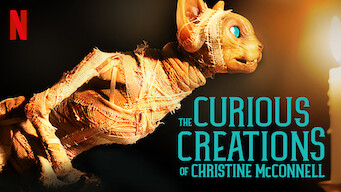 2018
TV-PG
1 Season
Wickedly talented baker and artist Christine McConnell fills her home with haunting confections, creepy crafts – and wildly inappropriate creatures.
Genres:TV Comedies, TV Mysteries
Cast:Christine McConnell, Colleen Smith, Adam Mayfield, Michael Oosterom, Drew Massey, Mick Ignis, Tim Lagasse, Dita von Teese, Steven M. Porter, Elko Weaver
Click to Rate:
Added to Netflix:October 12, 2018
From the Daily Dot

Christine McConnell is a strange, wraithlike woman with an immense talent for baking and a style that's best described as "the good parts of Tim Burton." She lives in a sprawling, beautiful house that sports "upscale Halloween chic" decor year-round. McConnell herself is like the offspring of Bob Ross, Martha Stewart, Morticia Adams, and the dreamlike Martian Girl from Mars Attacks! Between preparing beautiful, intricate confectionary creations, she deals with the antics of her housemates – a trio of monstrous curiosities created by the Henson company. A little bit Cake Boss, a little bit Addams Family, a little bit MST3K, The Curious Creations of Christine McConnell has all the makings of an annual Halloween staple.