Anon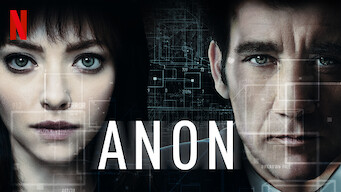 2018
TV-MA
100 min
In a future where technology has rendered privacy obsolete, a detective investigates a serial assassin who has been deleted from all visual records.
Genres:Dramas, Sci-Fi & Fantasy, Thrillers
Director:Andrew Niccol
Cast:Clive Owen, Amanda Seyfried, Colm Feore, Sonya Walger, Mark O'Brien, Joe Pingue, Iddo Goldberg, Sebastian Pigott, Rachel Roberts, Ethan Tavares
Production Country:Germany, United States, Canada
Click to Rate:
Added to Netflix:May 4, 2018
From the Daily Dot

Set in a future where everything is recorded through the eyes and human beings have exact footage to rely on rather than pesky memories, Anon stars Clive Owen as Sal Friedland, a detective investing a hacker played by Amanda Seyfried who may or may not be responsible for multiple murders. As he digs deeper, he's shocked to learn that this woman, known to Sal only as "ANON," appears to have deleted all her own records, making her nearly untraceable. The movie has a clever premise, but the problem is that Anon is so focused on its own cleverness, it fails to create an interesting world or characters around it.