Afflicted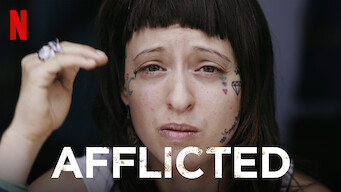 2018
TV-MA
1 Season
Baffling symptoms. Controversial diagnoses. Costly treatments. Seven people with chronic illnesses search for answers – and relief.
Genres:Docuseries, Reality TV, Science & Nature TV
Production Country:United States
Click to Rate:
Added to Netflix:August 10, 2018
From the Daily Dot

Netflix's latest medical docu-series, the frustrating and bleak Afflicted, follows the lives of seven debilitated patients, all diagnosed with inexplicable chronic illnesses. The series explores a growing phenomenon of people being actively allergic to human progress – the mold in buildings, various electrical wavelengths, chemical sensitivities. At the time cameras arrive for each patient, they've all already been diagnosed with a load of ailments, two with a controversial chronic version of Lyme disease. Creator Dan Partland plays each situation in three avenues: the patient, their family or significant other, and through an empathetic skeptic's viewpoint. He doesn't necessarily doubt what each sufferer feels; he subtly challenges and teases the origins of the disorders.