Patton Oswalt: Annihilation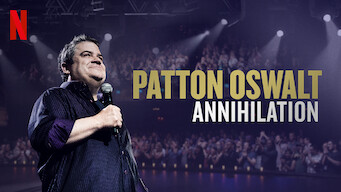 2017
TV-MA
66 min
By turns scathing and candid, Patton Oswalt reflects on the glut of comic material in the Trump era and the dark days following a personal tragedy.
Genres:Stand-Up Comedy
Director:Bobcat Goldthwait
Cast:Patton Oswalt
Production Country:United States
Click to Rate:
Added to Netflix:October 17, 2017
From the Daily Dot

Patton Oswalt's follow-up to 2016's Talking for Clapping starts off with some jokes about Trump, but it doesn't linger there. He adds in jokes about robocalls and genetic testing, but Patton Oswalt: Annihilation takes its time getting to the true annihilation. Oswalt uses the second half to explore grief and loss after his wife's unexpected death and opens up the special beyond just setups and punchlines. The filthy closing bit is a beautiful tribute.