The Land of Steady Habits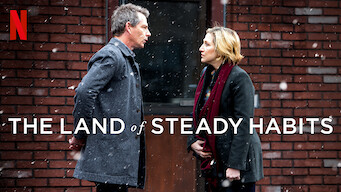 2018
TV-MA
98 min
After leaving his wife and his job to find happiness, Anders begins a clumsy, heartbreaking quest to reassemble the pieces of his fractured life.
Genres:Comedies, Dramas, Independent Movies
Director:Nicole Holofcener
Cast:Ben Mendelsohn, Edie Falco, Connie Britton, Thomas Mann, Bill Camp, Elizabeth Marvel, Charlie Tahan, Michael Gaston, Josh Pais
Production Country:United States
Click to Rate:
Added to Netflix:September 14, 2018
From the Daily Dot

In Netflix original The Land of Steady Habits, Anders Hill experiences the consequences of his mid-life crisis – in which he quit his job in finance and divorced his wife – and learns escaping a life of steady habits has its fallbacks. By combining tragedy with quippy one-liners, the film explores the growing pains felt in the pursuit of happiness, and how one person's actions severely impacts the people around him.