Fred Armisen: Standup For Drummers
2018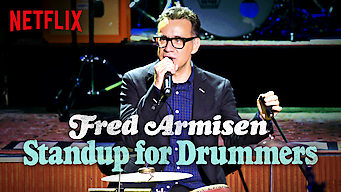 For an audience of drummers, comedian Fred Armisen shares and demonstrates his thoughts on musical genres, drummer quirks, regional accents and more.
Added to Netflix:
February 6, 2018
From the Daily Dot
Fred Armisen's latest special is basically a Portlandia sketch. The comedian stays on brand and gets hyper-specific with his audience for his first Netflix special, literally doing standup for an audience of drummers. If you're not a drummer, you might still eke out a "heh" for his joke about mispronouncing Paiste or Neil Peart; if you're a live music fan, you'll likely recognize some of the onstage dude behavior that he mimics, which has become fodder for Hard Times headlines. If you have no vested interest in drumming, Armisen still has some bits for you, but you'll have to wait for them.
---
---
---