Kevin James: Never Don't Give Up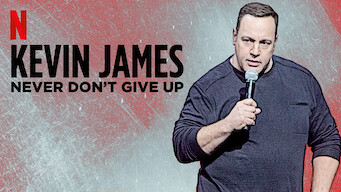 2018
TV-PG
62 min
Kevin James makes his long-awaited return to stand-up in this family-friendly special, dishing on fatherhood, fans, his disdain for allergies and more.
Genres:Stand-Up Comedy
Director:Andy Fickman
Cast:Kevin James
Production Country:United States
Click to Rate:
Added to Netflix:April 24, 2018
From the Daily Dot

Kevin James isn't exactly known as a standup after the success of his sitcoms Kevin Can Wait and The King of Queens, but in his new one-hour special for Netflix, the comedian is hoping to prove that he still has his chops. Never Don't Give Up is at its best when James is exploring his need to project macho confidence—when he suspects that he doesn't actually have very much macho confidence to begin with. The comedy is so broad and relatable that it verges on white noise, ranging from colonoscopies to pedicures to "what's the deal with food allergies?" The special would have felt more at home in 1995, but it may very well be worth recommending to a certain kind of father in your life.