What Happened to Monday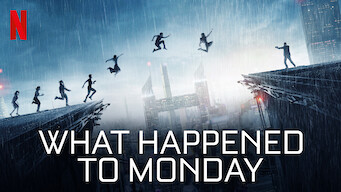 2017
TV-MA
124 min
In a future with a strict one-child policy, six septuplets must avoid government detection while searching for their missing sister.
Genres:Action & Adventure, Sci-Fi & Fantasy
Director:Tommy Wirkola
Cast:Noomi Rapace, Willem Dafoe, Glenn Close, Marwan Kenzari, Christian Rubeck, Pål Sverre Hagen, Tomiwa Edun, Cassie Clare, Cameron Jack, Clara Read, Robert Wagner
Production Country:United Kingdom, France, Belgium
Click to Rate:
Added to Netflix:August 18, 2017
From the Daily Dot

In a future where siblings are strictly prohibited, families with multiple kids are forced to hide from the government. When one of seven sisters disappears, her siblings have to work together from the confines of their home before they're found by the spooks. Noomi Rapace plays all seven sisters, and watching her interact with herself is almost as fun as watching the sisters during the action scenes. What Happened to Monday is a fun, fast-moving, and thrilling sci-fi romp.