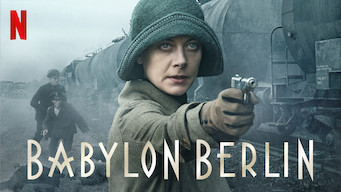 A Soviet freight train's hijacking leads a haunted cop and a poor typist to uncover a political conspiracy amid the vice and glamour of 1929 Berlin.
Cast:
Volker Bruch, Liv Lisa Fries, Peter Kurth, Leonie Benesch, Matthias Brandt, Severija Janusauskaite, Fritzi Haberlandt, Ivan Shvedoff, Lars Eidinger, Anton von Lucke, Misel Maticevic
New Season Added:
February 23, 2019
From the Daily Dot
This German-made pre-WW2 drama takes viewers back in time to the Weimar Republic in the Golden Twenties. Creators Tom Tykwer, Hendrik Handloegten, and Achim von Borries recreate the atmosphere with stunning detail. With production costs exceeding $40 million, the show is the most expensive German TV series and non-English language drama series ever. The end result is Cabaret meets crime television. It also offers Americans a dire warning: As the plot progresses, heroes must choose between their morals and nationalism. Babylon Berlin shows us how a progressive nation can crumble when it allows bigotry and intolerance to fester.
---
---
---
---