Brian Regan: Nunchucks and Flamethrowers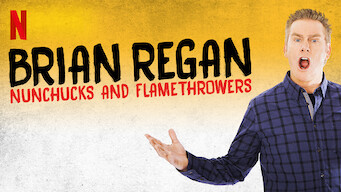 2017
TV-PG
61 min
Brian Regan takes relatable family humor to new heights as he talks board games, underwear elastic and looking for hot dogs in all the wrong places.
Genres:Stand-Up Comedy
Director:Troy Miller
Cast:Brian Regan
Production Country:United States
Click to Rate:
Added to Netflix:November 21, 2017
From the Daily Dot

Brian Regan is unofficially known as "the king of clean" but it's his approach to comedy that sets him apart from his contemporaries. His special compliments his body of work, sticking with silly observations, funny voices, and a non-political, goofy sense of humor. Going crass has never been Regan's forte.He also stays away from heavy political commentary. In the special, he only briefly references the president. At one point he jokes about not talking about politics at the dinner table because he doesn't want to get yelled at.