On My Block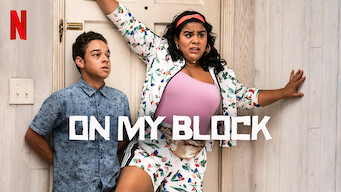 2020
TV-14
3 Seasons
In a rough inner-city Los Angeles neighborhood, four smart, funny and streetwise teens find their lifelong friendship tested as they begin high school.
Genres:Romantic TV Shows, TV Comedies, TV Dramas
Cast:Sierra Capri, Jason Genao, Brett Gray, Diego Tinoco, Julio Macias, Jessica Marie Garcia, Ronni Hawk, Peggy Ann Blow, Paula Garcés, Danny Ramirez
Production Country:United States
Click to Rate:
New Season Added:March 11, 2020
From the Daily Dot

From Awkward.'s Lauren Iungerich and co-creators Jeremy Haft and Eddie Gonzalez, On My Block is a series about coming of age in a "rough neighborhood" and all the implications that come with that loaded classification. The four leads, Cesar (Diego Tinoco), Monse (Sierra Capri), Jamal (Brett Gray), and Ruby (Jason Genao) are a close-knit group of friends who find their bond tested as they enter the uncharted waters of high school. Suddenly, the realities of everything from sexual attraction to gang violence are no longer ignorable, and On My Block mines them for equal parts drama and humor.