A Futile and Stupid Gesture
2018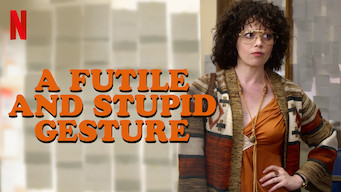 In a brief life full of triumph and failure, "National Lampoon" co-founder Doug Kenney built a comedy empire, molding pop culture in the 1970s.
Cast:
Will Forte, Domhnall Gleeson, Martin Mull, Joel McHale, Matt Lucas, Thomas Lennon, Seth Green, Jackie Tohn, Natasha Lyonne, Emmy Rossum, Elvy Yost, Matt Walsh, John Gemberling, Rick Glassman, Camille Guaty
Added to Netflix:
January 26, 2018
From the Daily Dot
A Futile and Stupid Gesture, Netflix's feature film adaptation of Josh Karp's 2006 book of the same name, is an exploration of the creation of humor mag National Lampoon and its odd-couple co-founders, Henry Beard (Domhnall Gleeson) and Doug Kenney (Will Forte). It's removed enough from its 1970s origins to offer new insight into its generational influence – and it also recontextualizes satire in an era littered with "fake news."
---
---
---
---